About Us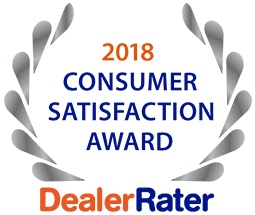 Land Rover Fort Myers is proud to receive the Pinnacle Club Retailer Excellence Award for the 5th year in a row. The Land Rover Fort Myers "Internet Sales & Delivery Team" has a singular focus; to make your next vehicle purchase as easy and hassle free as possible. We understand that many hours go into researching your new and used car purchase, a lot of those are spent online. We feel that our website is an ideal place to discover all of your options and when it is time for you to make contact we have a dedicated team of professional product specialists ready to assist you with any and all questions that you may have. We look forward to serving you throughout your buying experience and for many years after.
We are very excited to have the opportunity to serve the luxury segment in Southwest Florida. Our number one goal is to earn your business on a brand new or certified pre-owned Land Rover.
The hallmark of our dealership is a top-notch team that's dedicated to impeccable customer service and fair dealing. Customers can expect to see many discernible improvements over the upcoming months in all facets of the operation. Look for a broader inventory of new and pre-owned vehicles, a robust new website, and an array of distinctive services designed to enhance the customer experience.
Land Rover Fort Myers is proud to be the recipient of the the prestigious Land Rover Pinnacle Club Excellence Award for 2014, 2015, 2016, and 2017! Most recently, we're proud to announce that Land Rover Fort Myers has won the prestigious Land Rover Pinnacle Club Excellence Award for 2016/17 for outstanding performance in customer experience, business excellence and sales. Only sixteen Land Rover Retailers in the US are selected each year to earn the distinction.
Our thanks goes to our customers for their support and loyalty to us and to the Land Rover brand. We will continue to take the ideals of excellence and turn them into a way of doing business – for every customer, every day. We are driven to another level.
On the service side, we have revamped our service loaner program making available more luxury vehicles as loaners. You'll see a laser focus on complete customer satisfaction. Vehicles will be processed quickly; more quick moving parts will be in stock, and we'll be in constant contact communicating the status of your service.
Thank you for taking the time to explore our website. We hope that you found researching your next vehicle to be interesting as well as effortless. If you have any questions that you were unable to find answers for here on our website please feel free to call us at (866) 591-5472.
---
Learn more about Land Rover Fort Myers
Proudly serving drivers like you, from Fort Myers to Naples, Bonita Springs and Cape Coral, and everywhere in between.
If you're in the market for a new or used car, you've come to the right place. The staff at Land Rover Fort Myers is committed to helping you find the right vehicle for your needs. What's more, they're also dedicated to helping you maintain it long after you drive it home for the first time.
So where do we begin? Most like to take a look at the latest Land Rover models to hit our showroom, including the Land Rover LR2, Land Rover LR4, Range Rover, Range Rover Evoque and Range Rover Sport.
Those looking to keep some of that hard-earned money in their pockets, meanwhile, like to consider our lineup used cars as well.
Of course, whether you choose new or used, Land Rover Fort Myers staff's a team of expert auto finance specialists who can help you find the right loan or lease for your needs. From start to finish, we're by your side to make the buying process as easy as possible.
And after you've purchased your next vehicle, Land Rover Fort Myers doesn't go anywhere. Instead, we continue to support you with an onsite service department, which operates using only certified Land Rover parts – a combination that's sure to result in many worry-free miles in your vehicle's future.
Whatever your automotive needs may be, Land Rover Fort Myers is here to serve you. Located at 15875 S. Tamiami Trail in Fort Myers, Florida, we're a quick drive away from the surrounding Naples, Bonita Springs and Cape Coral areas. Come see what we can do for you today.
---